How to Play Minesweeper?
Minesweeper is a popular logic puzzle that gained worldwide popularity in the 1990s.
It came to fame in 1990 after being included in Microsoft Windows Entertainment Pack 1 and it was later included in all version of Windows under the name "Microsoft Minesweeper" up until Windows 8.
The game is played on a grid filled with hidden mines.
The goal of the game is to reveal all the cells that don't contain a mine.

Each cell contains either a mine or a digit that indicates how many mines are present in the surrounding cells.
Use the digits revealed in each cell to strategically determine the locations of the mines.
Here are two examples showing two fully revealed 3x3 boards: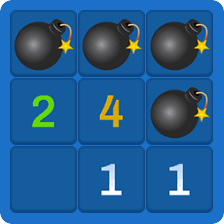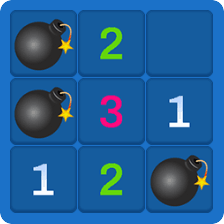 Game Controls
In "dig" mode - clicking an empty cell will reveal its content. If the cell contains a mine, you will lose the game!
In "flag" mode - clicking an empty cell flags or unflags it.
Right mouse click: flags or unflags a cell.
Supermoves
Clicking a digit, while the number of flags around it is equal to the digit, will automatically reveal all non-flagged cells around it.
Note that if you make a supermove with the wrong cells marked as mines, you will lose the game.
Gameplay Tips
The first revealed cell is never a mine.
Learn how to use the supermoves, they will speed up your game significantly.
Flag with caution! Supermoves are unable to determine whether a cell has been wrongfully flagged or not, and might reveal mines.